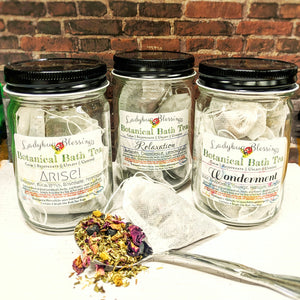 Botanical Bath Teas - New Product!
Regular price
$12.00
$0.00
Unit price
per
These botanical Bath Teas are an exquisite new addition to our Aromatherapy line!
Each blend is expertly mixed to relax, refresh, and rejuvenate your mind and body through a warm bath.  Dried botanicals, flowers, and herbs come in different blends which we package in a soaking tea bag.  Each jar comes with 4 single-use tea bags.  Simply drop 1 bag into hot bath water and allow the aroma to envelope your senses! 
4 Blends available currently:
RELAXATION: dried Chamomile, Lemongrass, Orange Peel, Lavender, Rose Petals and Hibiscus Flowers. Ideal for a bedtime bath to relax and wind down. 
ARISE!: dried Spearmint, Eucalyptus, Rosemary, Fennel, Juniper Berries and Peppermint. Meant to uplift and awaken your senses! 
JUBILATION: dried Chamomile, Rose Petals, Juniper Berries, Rosemary and Spearmint. Joyful and Uplifting!
WONDERMENT: dried Chamomile, Calendula Flowers, Lavender, Rose Petals, Hibiscus and Orange Peel. A depth of sensual wonders in an herbal rainbow. 
REFRESH: dried Rosemary, Peppermint, Spearmint, & Sage Leaves.  Ideal for after a workout or exercise! 
(Please note: Do NOT open tea bag. Discontinue use if skin irritation occurs.  Rinse skin with clear, warm water after soaking in bath tea water.)
---