Christmas Stocking Stuffers

Christmas Stocking Stuffers
Stocking Stuffers- Relaxing, Refreshing, Loved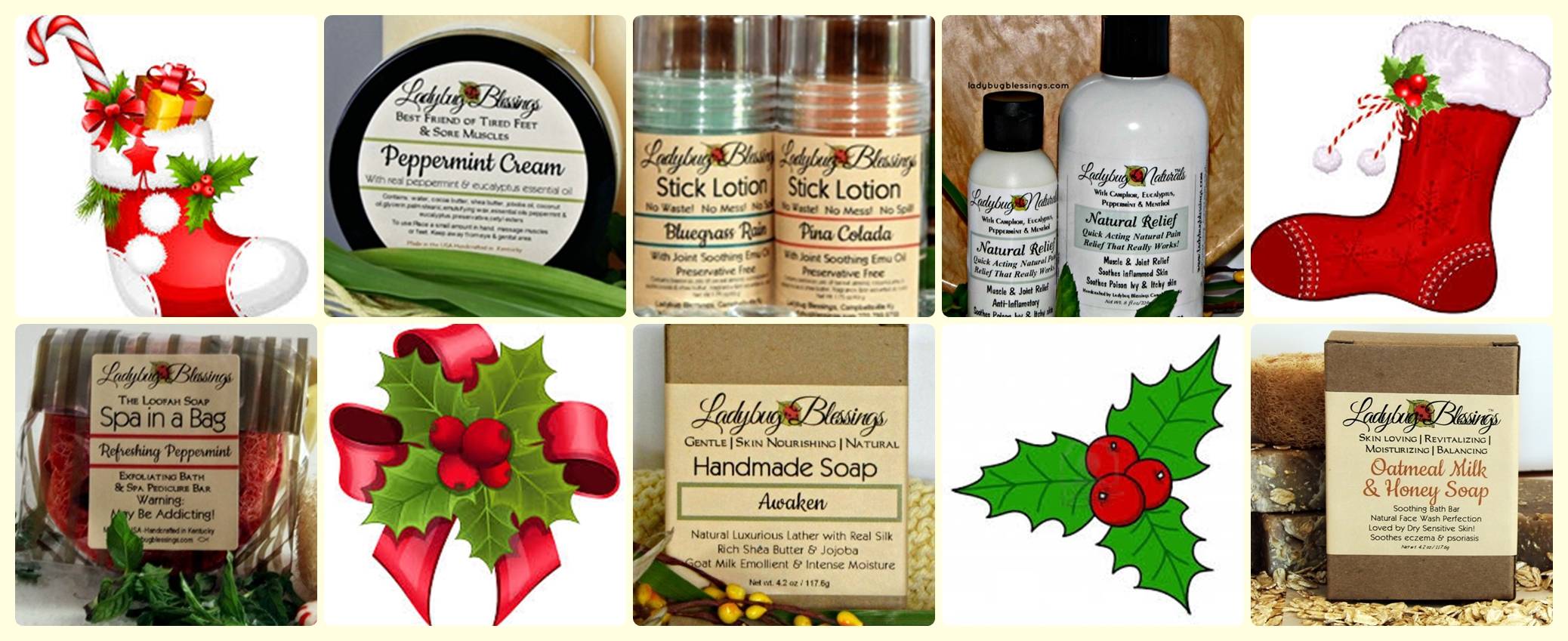 Christmas Stocking Stuffers- Handmade Stocking stuffers!
Ladybug Blessings stocking stuffers are sure to be loved and used all year long. Many of our reorders come from clients who received their first Ladybug Blessings Bath Product as a gift or stocking stuffer!
Ladybug Blessings Christmas Stocking Stuffers offer an unique choice in fine carefully handcrafted products.We are truly 100% handmade!
A look around our site experience the quality and uniqueness of the entire lineLadybug Blessings
Every stocking stuffer you purchase has been handmade by a real human, in the good ole USA, in the heart of the Kentucky Bluegrass!!
Christmas Stocking stuffers featured on this page may be ordered on this page or on the featured product page.
Our Gifts Under $10 page will allow you to order many of these already in gift presentation.We are 100% handcrafted spa quality with a goal to present you with the VERY finest!
Christmas Stocking Stuffers- The Aroma
At Ladybug Blessings we believe the aroma is part of the experience. Christmas stocking stuffers have wonderful aromas because we make careful fragrance choices to insure your bath products are wonderfully fragrant. We pride ourselves on aromas true to the scent name.
If is is possible to achieve that scent with an essential oil - we do! If not we use high quality fragrance oils. We offer plenty of fragrance choices so there is something for everyone. A description of our fragrances can be found on our fragrance guide page.
Stocking Stuffers for the whole family
At Ladybug Blessings we have something for the entire family..
A sure favorite is our famous Oatmeal soap. We have shipped it into 38 states and numerous foreign countries by word of mouth alone. Over 18 skin loving, skin nourishing, skin blessing ingredients! Hypo allergenic - deeply moisturizing. Loved by our most skin sensitive customers.
Ladybug Blessings soaps and natural bath and body products are all formulated with rich natural oils and butters such as shea, jojoba, coconut etc. Ladybug Blessings enriches soap with both silk and soothing goat milk.