Foot Care Gifts- Luxurious Handcrafted Featuring
Ladybug Blessings "Bless My Tired Feet" Foot Care line
Foot Care Gifts from the Ladybug Blessings "Bless My Tired Feet Collection" are sure to meet your needs
Our Foot care gifts are all completely handcrafted with luxury base oils and natural essential oils.
Plus you will find the most affordable prices and many options for making your foot care gift just perfect!
The Foot Care Gifts Selections:
Images are clickable links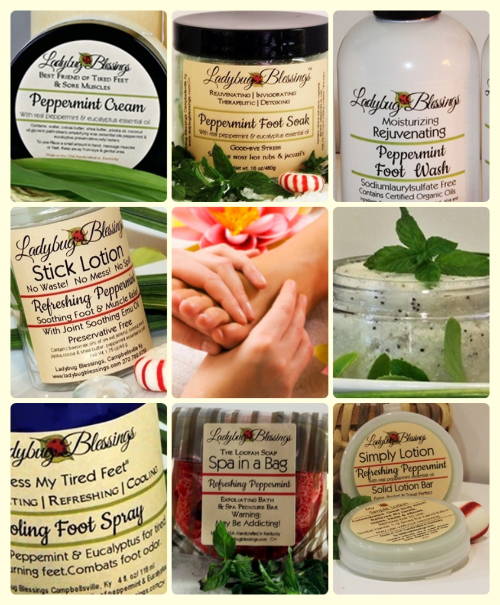 Foot Care Gift - The Complete Bless My Tired Feet Pack
Everything a pair of feet could need to be comfortable!
8 piece beautifully gifted set from $68.95
1 Peppermint Foot Cream 4 oz ,
1 Peppermint Foot Scrub 4 oz
1 "Spa in a Bag" Loofah soap-
1 4- oz cooling foot spray
1 Natural Peppermint Foot Soak 8 oz,
1 Natural Foot Wash
1 Peppermint Solid Lotion Stick
1 Peppemint Solid Lotion Bar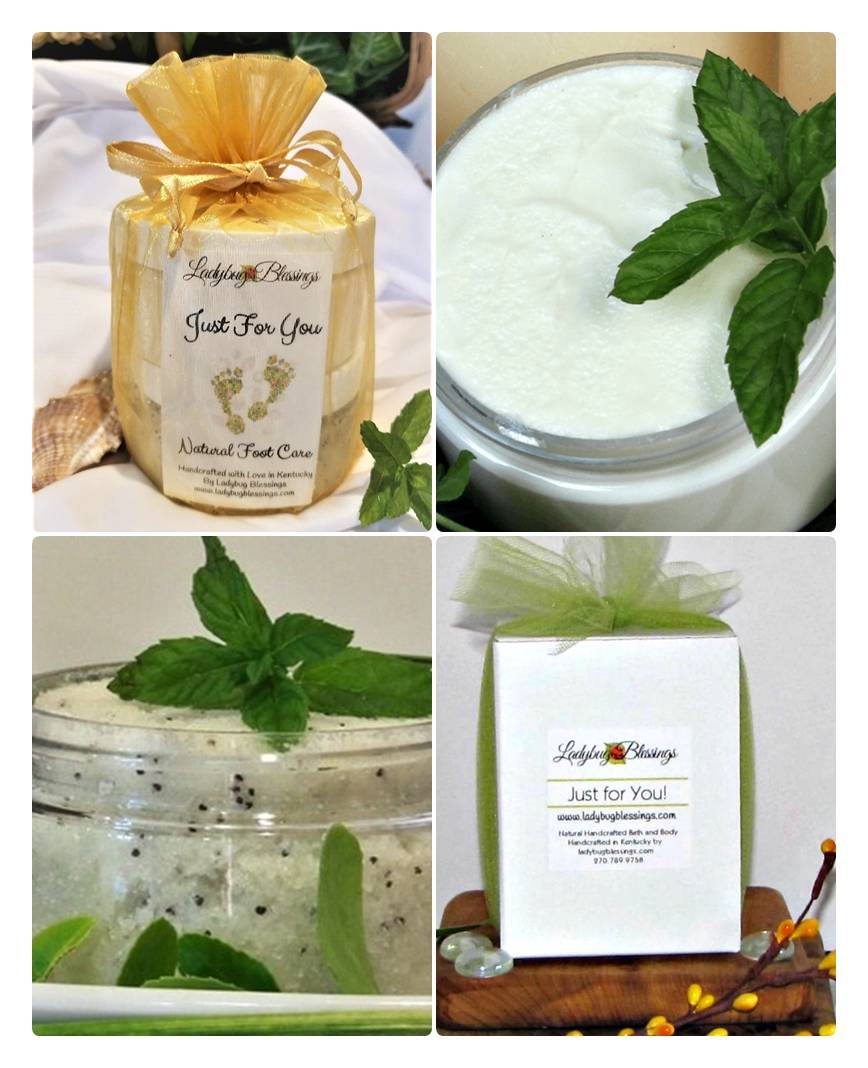 Foot Comfort - Blessings Sets
Foot Cream & Foot Scrub Set

Our top selling Peppemint Cream and the accompanying Foot Scrub. One of our popular sets.
Refreshing smoothing exfoliating scrub.
And rich fresh moisture. Plus the pep of peppermint equals the gift of rejuvenation!
this gift from our "Bless My Tired Feet" Line is sure to be loved with every step!
Luxurious and affordable
Available in 3 sizes
Cream and Scrub Sets are always a hit. They are luxurious and affordable.
Includes product, gift organza bag with card and with crinkle or box and bow of your choice and bow. 3 sizes
$12.99 to $32.99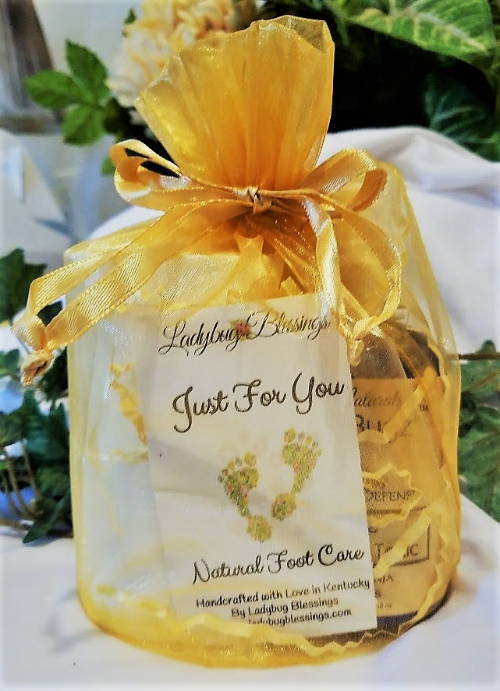 Just perfect to add a rejuvenating touch for the holidays and beyond!
2 oz Peppermint Cream, 2 oz Scrub for rejuvenation. Plus a cooling foot spray to make sure of that just left the spa feeling!
Gift presentation is organza bag and your personal card in a colorful tissue lined shipping container.
Complete set $23.49
Foot Care Gifts - A Gift to Every Step~
You have just found the Foot Care Gifts here that will make their feet smile!
Foot Care gifts offer pampering foot care that Everyone loves to be pampered with fine foot care products!
Here Foot care gifts are filled only with our best selling natural handcrafted foot care products made from our Original formulations.
We call it the "Bless My Tired Feet' line and your special someone is sure to love it!
Experienced crafter of top quality products since 1999
Personal Service- we still believe serving you is a joy- not a job!
We ship throughout the US, some foreign countries, all US military bases
Excellent gifts for diabetics
Well done gift presentation
Timely delivery
Perfect gift for a new mom, friend, athletes, the bride or bride to be, birthday, anniversary, recovery !
A gift of relief, healing & comfort for any diabetic or athlete.
Can be far more than just a gift for someone else - the sure way to your pamper with a Spa at home- Everyday!

Ladybug Blessings- is aFoot Gift They Are Sure to Love
"The Bless My Tired Feet" Collection
So good- Feet smile with With Every Step!