Foot Care Natural Foot Care
---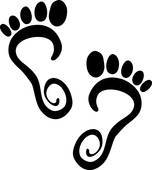 "The Bless My Tired Feet"
NATURAL SOOTHING FOOT CARE COLLECTION

Ladybug Blessings is proud to offer a renown line of foot care products. Each is uniquely handcrafted with the finest healthy natural ingredients. We use pure butters, oils, natural loofahs, salts and quality essential oils.
Try our "Bless My Tired Feet" foot care line. A Foot Care Collection with one of the largest varieties & finest quality on the internet
Foot Care By Ladybug Blessings- Where care for your every step
"Bless My Tired Feet" Natural Foot Care
Foot Care - Quality, Relief & a Pep in Your Step
Yes, we truly are one of the largest and most popular foot care product collections on the internet. Ladybug Blessings "Bless My Tired Feet" boasts almost 20 years of offering foot care that puts the pep back in your step quickly.
Ladybug Blessings if proud to offer Natural foot care at it's best- For almost 20 years we have continued to improve foot care products so we can be the end of your search for relief for tired aching feet (and sore muscles)!
Each is uniquely handcrafted with purpose withthe finest healthy natural ingredients to insure revitalizing, refreshing soothing relief that last for hours.
Pure butters, oils, natural loofahs, salts and quality essential oils means a quality for a top rated product everytime.
Popular with diabetics. No medical claims here... but we get calls from customers who love them and reorder every day!
Try our "Bless My Tired Feet" foot care line today and discover why we call it the "Bless My Tired Feet" Line
---
Foot Care by Ladybug Blessings
Your "Bless My Tired Feet" Solution
Ladybug Blessings Foot Care
Fully Handcrafted in small Batches. All Original Formulations.
Foot Hancrafted with the Finest Natural oils
& Real Natural Peppermint & Eucalyptus Oils
---
The Foot Care Product Collection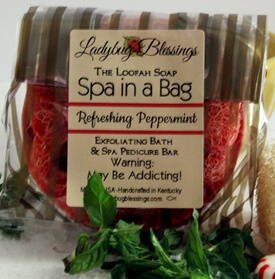 THE Ladybug Blessings Best Seller
Exfoliating Spa Pedicure Bar
Peppermint Spa in Bag Loofah Soaps!
Sure to create an addiction!
A pedicure in the shower everyday!A full fragrance of collection of available here
The Spa in a Bag Treat removes callouses, massages tired feet.
What if one foot care product could allow you the feeling of pedicure and spa every day?
What if it offered you the feeling of a foot massage every day in the privacy or your shower?
What if your feet looked at felt like you lived at the pedicure shop?
Our unique loofah soap will do just that and more!
Tired of dry calluses? or dry cracking feet? They will be gone in a short time with our loofah soap scrub and massage bar.
Price Only $8.59 Bar size 6 oz
Complete fragrance selection from our loofah soap page.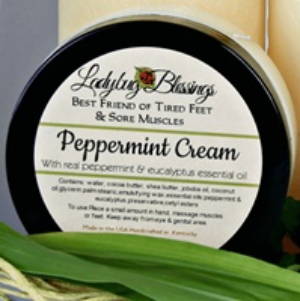 The Foot Cream- A Best Seller in Our Foot Care Line!
Moisturizing, Rejuvenating
Made with natural oils and real peppermint & Eucalyptus gives hours of cooling soothing moisturizing comfort . It doubles as an excellent great muscle tension relief product! favorite among our diabetic clients.
Have you searched for a Foot Cream that gives hours of cooling soothing moisturizing comfort to your tired feet ?
Have you bought cheap peppermint lotions only to be disappointed with the lack of peppermint or how long an application lasts? You won't be disappointed with Ladybug Blessings Peppermint Cream foot care
You will be amazed by the intensity of the Peppermint and its relief properties!
This foot cream is intensely peppermint. It doubles as an excellent great muscle tension relief product. A sure way to put some pep in your step.
A favorite among our diabetic clients .
Paraben free preservative system.
Very popular diabetic foot care product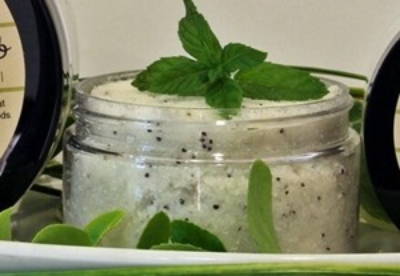 Ready for your tired feet to feel like dancing? Peppermint scrub by Ladybug Blessings will make your feet feel like dancing!!
Real natural peppermint soaked defoliants massage away the blahs and re-energize you as your feet come alive.
The perfect natural foot care product to ex-foliate, and rejuvenate
Effects last for hours.
Apply Our Peppermint foot cream after your scrub for a total spa experience.
Completely handcrafted.
Learn more by visiting the peppermint foot scrub page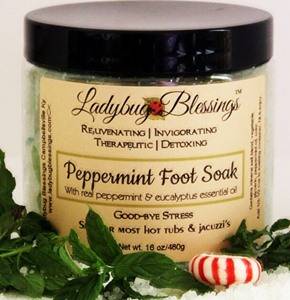 When was the last time you took time for a foot soak?
Our foot soak is the way to care for your exhausted feet and rejuvenate your whole body at the same time.
Don't have time for a foot soak? .. Just simply take our Peppermint foot soak salt, place in a pan of warm water and..well while you watch TV or your favorite sport .. be good to yourself.
Our salt blend helps to both relax and relieve soreness.
Order Peppermint for great rejuvenation.
Order Lavender & Tea Tree for fighting fungus and infections .
Lavender is a nice relaxing touch..
But whatever you do ..order today and treat yourself to a foot care product that will leave you rejuvenated for hours.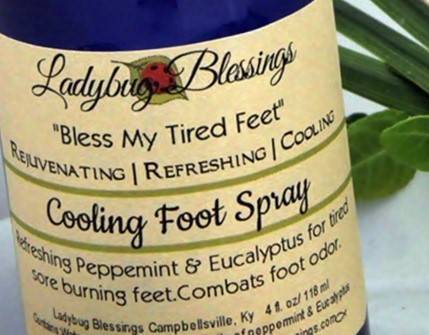 Cooling Refreshing Mist for Tired Burning Fee
Tired burning feet? Cooling Foot Spray is just the foot care they need

Give your feet a quick pick me up anytime.
Made with both peppermint and eucalyptus oil

Your feet feel refreshed and the burning stops. Also fights foot odor.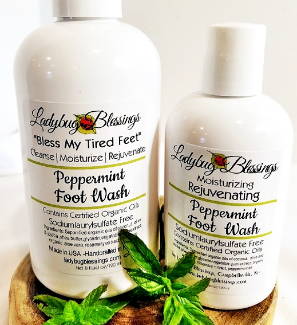 Rejuvenating Cleansing and Moisturizing
The Way Feet should be washed!
What you wash your feet with matter!
Cleanse , rejuvenate or even soak with our foot wash .
Peppermint tingle makes feet feel alive again.
Perfect to use as a pre-requisite to our foot cream and cooling foot spray.
Natural soap with NO sodium lauryl sulfate or other harsh drying chemicals.
*Fully Handcrafted in small Batches. All Original Formulations.
We use the finest Peppermint Essential oil for immediate refreshment.Cooling tingle immediately. .the relief you deserve & fast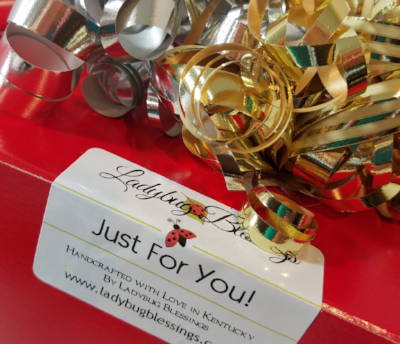 Foot Care Gifts- Luxurious Handcrafted Featuring
Ladybug Blessings "Bless My Tired Feet" Foot Care line
Foot Care Gifts from the Ladybug Blessings "Bless My Tired Feet Collection" are sure to meet your needs.
Completely handcrafted with luxury base oils and natural essential oils.
Plus you will find the most affordable prices and many options for making your foot care gift just perfect!
We use only real peppermint essential oil because fragrance won't help you.
Many peppermint products on the market are made with peppermint fragrance oil or low grade oils at low low percentages . We use quality peppermint oil at concentration levels that give you an unsurpassed product.