Foot Scrub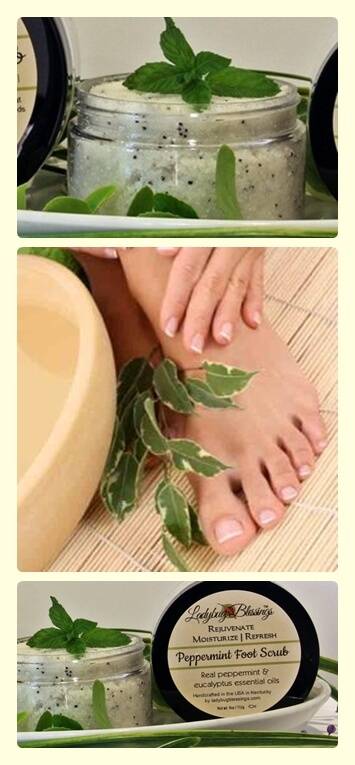 Foot Scrub- Rejuvenating! Refreshing!
Welcome to your one stop source for incredible Peppermint Foot Care products that make your feel feel like dancing !
Ladybug Blessings Our Peppermint Foot Scrub made with natural ingredients welcome you to the spa as it gentle exfoliates buff away dry dead skin.
Lush natural oils moisturize without leaving an oily feeling. Essential oils of peppermint, eucalyptus and tea tree leave your tired feet behind with a revitalized ready to dance renewal.
Peppermint Foot Scrub-Quick Info Guide
Completely handcrafted from our original formula
Rich Natural moisturizing oils including jojoba
Peppermint Foot Scrub contains real t essential oils of peppermint, eucalyptus, tea tree.
NO fragrance oils
NO preservatives
NO petroleum products
NO mineral oil
Excellent choice for diabetics
Peppermint Foot Scrub & Our Entire Foot Care Collection
All Natural Handcrafted Foot Scrub is a Refreshing pure spa pleasure for your customers!.
Mixture of salts, oils and natural soap for scrubbing and cleansing,exfoliating, relaxing & rejuvenating

The aroma herbal properties of peppermint, Eucalyptus & Tea Tree Oils

Rich moisture oils jojoba, coconut

Spa Refreshment at its best.

What a way to take home a pedicure!

Peppermint Foot Cream is the perfect accompaniment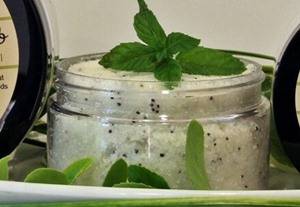 muscle tension relief properties.
Wholesale Foot Scrub -Wholesale Foot Care
Visit our Wholesale Bath and Body to inquire.
Peppermint Foot Scrub Promotional & Custom Packaged , Private Labels
We accept orders for custom Peppermint Foot Scrub with packaging designed to promote your company. We offer for both resell and promotional purposes. Medical clinics often choose us. To inquire fill out our wholesale bath and bodyapplication or call us 270-789-9758