Handmade Soap
---
Handmade Soap
Handmade Soaps - Natural Handmade Soaps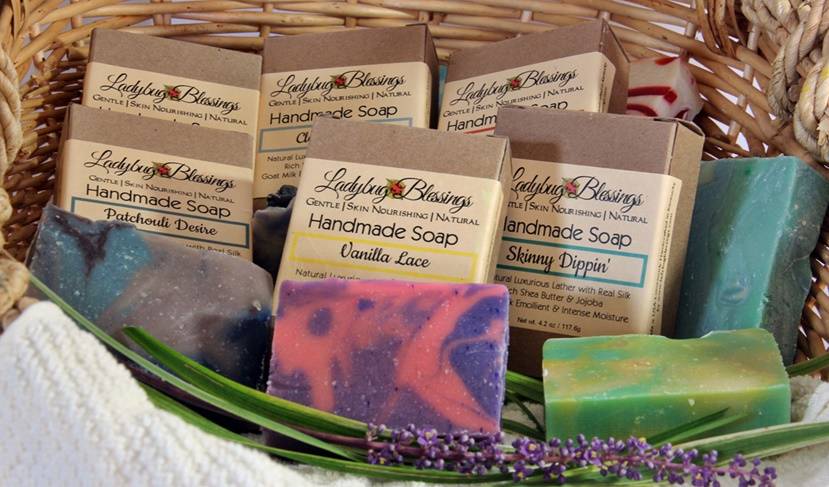 Soaps from the finest Natural ingredients -Spa Quality Affordable Prices
Handmade Soaps for when you want the very Finest for your Bath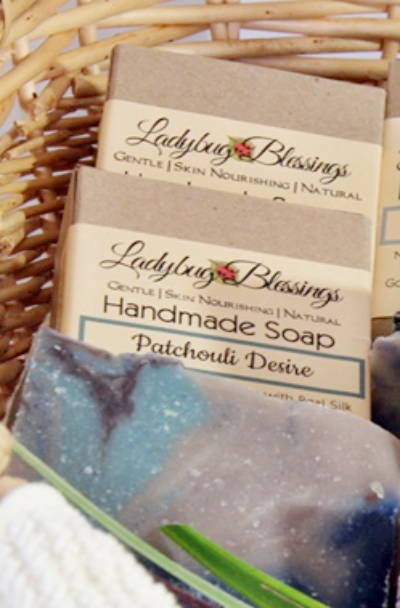 Natural Handcrafted Soap
At Ladybug Blessings- Quality Counts
We make only premium spa quality soap. There are enough cheap products in the market and customers deserve the best .Therefore,we spare no luxuries!
Handmade Soaps -So Here's the Scoop
Luxurious oils- NO filler oils
Soothing power of real goat milk
Loved by a host of former dry skin clients
Handmade soaps bar size approximately 4 oz
See Handmade Soaps ingredient list
More details about our luxurious soap keep reading below
Popular Wholesale Choice Click for wholesale
Handmade soap - Click here for More information below
Our handmade soap started off as the very heartbeat of our company. After battling dry itchy skin all of my life, crafting a quality product that moisturizes, eliminates itch and yet is a aromatic pleasure is our passion. We use real silk for a great silk feel, we use goat milk for its soothing anti-itch benefits. We always use shea butter, mango butter and jojoba.
Handmade Soaps- Our Personal Journey
Our handmade soaps were developed after years of personally battling dry, itchy and irritated skin. After all I was over 35 years old before I ever experienced getting out of the bath tub and not itching. Not being dry etc. Natural Handmade Soaps were truly the difference.So we take soap formulation seriously. So seriously that the difference means using 3 bottles of lotion a year instead of 3 a week. Luxurious affordable soaps- make living in the skin a livable experience! We invite you to order today and experience the difference quickly.
Handmade Soaps- Our Customers Speak
'Just got my order. WOW !! I love the soaps" Cindy
'Was in Eastern Kentucky visiting family, bought your handcrafted soap "Orange Sage" at the Rusty Hinge ....wonderful!!!!- Cheryl
I LOVE THE SOAP!. Traci B
I wanted to let you know that I loved your soaps and that I intend to purchase more. I bought these in covington at the main strauss festival. You have a wonderful product.
ABSOLUTELY LOVE THE SOAP ….MY EXTREME DRY SKIN IS A THING OF THE PAST ALREADY AND IT'S JUST JANUARY!   WHEW WHO!   "IT'S TRULY A BLESSING!"
Handmade Soap- Goodness for Your Skin
Good for your Skin
As handmade soaps are the very heartbeat of our business at Ladybug Blessings we make sure your skin will love every bar. From the very beginning formulating a natural handmade soaps with no filler oils, luxurious ingredients, and affordable prices has been an imperative. While your skin will love the way they feel. You will also appreciate the many beautiful colors and eye appeal of our handmade soaps.
Natural Handmade Soaps By Ladybug Blessings-We call it them "Bless My Bath" Bar
Handmade soaps- The questions
With so many choices available - why natural handmade soaps? We understand questions like :Is handmade soap really good for your skin? Will a natural handmade soap really prove to be cleansing as well as intensely moisturizing and refreshing? We once had all of these questions.
Handmade Soaps- Get the Bubbling honest truth here!
If I am using store bought soap - am I really using soap or it is something else? If so - what? Perhaps, you have heard a lot of claims concerning soap and just not sure what to believe. Ladybug Blessings specializes in natural handmade soap and is just the place to get the bubbling honest truth on handmade soap :)
Handmade Soaps- Is it good for my skin ?
Yes, our natural soaps are very good for your skin.We would go so far as to call our soap- skin food. Our skin is our largest organ deserving the best of care. Our Natural handmade soaps will leave your skin intensely moisturized, clean, smooth and refreshed.
Natural Handmade Soap- What are the ingredients?
-Natural Handmade Soaps- with natural skin loving oils
Our handmade soaps are made using the cold process method to maintain the benefits of our rich oils. We formulate using with a variety of pure luxurious oils and the richness of shea butter, jojoba. Our natural soapmaking process maintains the natural glycerin , an emollient that draws moisture to your skin and help retain it. This natural glycerin is often extracted from commercial products.
For a great understanding of Natural Handmade soaps and caring for your skin keep reading as we will explain what enriches our natural handmade soap and how handmade soap compares to commercial products.
Handmade Soaps- Goat Milk, Silk & More
We add real silk, and real goat milk to our soaps which serves to intensify the soothing properties of the natural oils we use.

Goat milk is soothing with natural emollients. Goat milk soap is an excellent addition to natural handmade soap with properties that relieve dryness and leave your skin feeling silky soft. Goat milk soap is often recommended by dermatologists for their patients who suffer from skin conditions such as psoriasis, eczema and acne.
The richness of silk bring you a natural handmade soap that leaves your skin with the smooth silk finished feeling.
Handmade Soaps- Lots of extra moisturizers
Upon completion our natural soaps have a high percentage superfatting- This simply means there are lots of wonderful moisturizing oils left free in the soap to give you maximum moisturizing blessings..
Handmade Soaps- Pleasing aromas, Lovely appearance
Finally, we all the wonderful richness of a bit of eye appeal bringing you a delightful blend of appearances. Our natural aromas come from natures finest essential oils.Our fragrance soaps are nearly natural with the scent derived from high quality fragrance oils.
Handmade Soaps & Commercial Soap- How do they differ?
Many commercial soaps, shower gels, body washes etc. are usually not soap at all. But rather, they are detergents very simi liar to laundry detergent. They are frequently petroleum based and have many harsh ingredients. These may include sodiumlaurylsulfate, alcohols, preservatives and more. These additives serve to dry and irritate our skin and some have been linked to skin cancer.

While the synthetic ingredients of commercial products can strip away the natural oils of your skin leaving your skin dry and itchy. Our natural handmade soaps clean as leave behind moisturizers to nourish the skin.
Handmade Soaps & Natural Glycerin
In commercial soaps, the glycerine is often removed and sold separately, Usually in skin moisturizers promoted to remedy the damage done by the drying commercial soaps.
The specification process of our natural soap yields a wonderful feeling smooth clean soap that is about 75% soap, and 25% glycerine.Our natural soaps leave this wonderful glycerine in the soap thus bringing you all of the emollient properties thereof.
Handmade Soaps- do they lather?
Yes, our handmade soap lathers and it lathers well.

Handmade Soap- how it lathers
Our natural soaps lather using the rich oils of palm,castor and coconut. The percentages are carefully calculated and therefore contribute to both lather and moisture properties of the soap.
Our handmade soaps lather well and we use NO sodiumLaurylSulfate-a chemical that makes commercial products lather which is is very drying, a known skin irritant. Many consider it toxic ck. your labels.This is not only a primary ingredient in most commercial bath products but it is often the first ingredient. Many believe it contributes to skin cancer.Our natural soaps
contain No detergent additives.
Handmade Soap- luxurious & affordable
At Ladybug Blessings, we want you to find the most luxurious Natural handmade soaps at a price you can afford. At Ladybug Blessings luxury is always our standard.
Our ingredient list is as follows: water, palm kernel oil, coconut oil, goat milk, canola, oil, rice bran oil, shea butter, jojoba oil, castor oil, palm oil, silk,sodium hydroxide. fragrance or essential oil, color.
You'll experience the softness of the cocoa butter, the wonders of the shea the silkiness of the jojoba oil and more. You'll soon find that natural handmade soap is truly an addiction!
Our handmade soaps weigh approximately 4-4.5 oz. Lovely Packaged in a lovely labeled with gold cording .  
Handmade Soaps- for Craft Shows etc
Our handmade soaps are a most popular item at craft shows and bazaars. If you have a craft boot and a wholesale resale number - Apply for wholesale and consider adding Ladybug Blessings Handmade Soaps to your booth.
Our Handmade Soap can Be Your Profitable Fundraiser
Easy Sale!
Consumable item.
50% Profit
Info on our Soap Fundriaser Page
Or Call 270.789.9758
 

Visit our Wholesale Soap page and start profiting selling Ladbug Blessings Natural Handmade Soap
270.789.9758

lWholesale Soap for Craft Show Sales