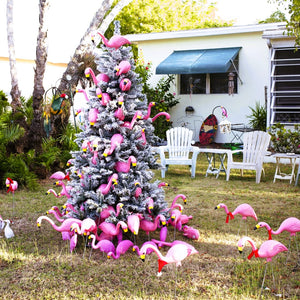 Mele Kalikimaka - The Pink Flamingo Christmas Fragrance! *Holiday*
Regular price
$0.00
$0.00
Unit price
per
This is THE HOLIDAY fragrance of the year and it has gotten so much attention and love at our local craft fairs!!!!!
Ok... so the girls in my shop somehow became convinced that I love Pink Flamingos.  I guess because I have one in the succulent box in my office window and a plastic one outside in the rose bushes that I make fun of when he's covered in frost? ANYWAY: My office is now covered in Flamingo-themed gifts from them and it makes me happy!
We decided to go ALL OUT last year and boy did it sell like crazy - we created a Pink Flamingo Holiday Fragrance!  As an ode to one of my favorite old Christmas songs, this one is called "Mele Kalikimaka" - please tell me you're singing it!
"Mele Kalikimaka is the thing to sayOn a bright Hawaiian Christmas dayThat's the island greeting that we send to youFrom the land where palm trees sway!
Here we know that Christmas will be green and brightThe sun to shine by day and all the stars at nightMele Kalikimaka is Hawaii's wayTo say Merry Christmas to you!"
FRAGRANCE NOTES:
This scent is more than just fun labels and colors, it's an OUTSTANDING smell!  We've sold it for years in candles named "Christmas in Hawaii".  Notes of fir, spruce, tropical citrus, orange zest, and a Christmas fruit basket on the table.  We describe it as "Someone threw a pineapple in a Christmas Tree" and it delights customers all year long. 
TRY IT!!! 
---