Oatmeal Soap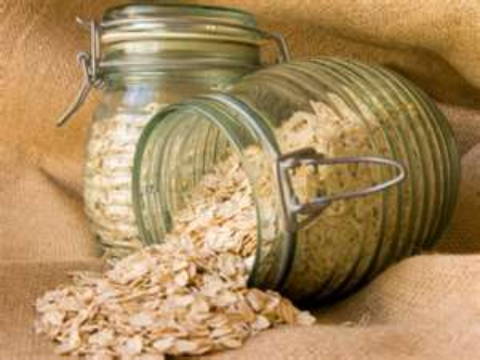 A Natural Skin care solution
Oatmeal soap is a natural skin care solution excellent for all skin types. Oatmeal is soothing, anti itch and hypo allergenic. It is also a very balancing ingredient. Would you be surprised to learn that our oatmeal soap is a favorite of both teens suffering with acne probe skin as well as clients who have battled dry itchy skin? All that balance can be brought into your skin care with our natural oatmeal soap and without harsh chemicals. You can almost hear your skin say thank you!
Tired of itch problematic skin? Try Ladybug Blessings Oatmeal soap and prepare to tell your itchy skin good bye. Say hell- o to skin you like living in.
Tens of thousands of Ladybug Blessings oatmeal soap bars are repeatedly purchased by those dealing with problematic dry skin such as constant itching, flaking ,eczema, psoriasis. Natural oatmeal, shea butter, goat milk, real silk and natural emollient rich oils combine to offer unsurpassed relief. You will be amazed.. click here to try it now.
Our oatmeal soap contains no detergents, no petroleum products and no harsh chemicals.
Our handmade soap was developed after years, of personally battling dry, itchy skin. Quality ingredients and precise recipes formulated from careful study of the properties of natural oil are the essential components of how we developed our handmade soap line. Therefore we are daily dedicated to offering intense moisture and skin loving properties
Oatmeal Soap crafted from real oatmeal, shea butter, silk and goat milk for soothing dry itch skin

Oatmeal Soap -Quick Info
Our best Seller with thousands sold
Shipped to over 40 states mostly by word of mouth
Luxurious oils- NO filler oils
Soothing power of real goat milk
Preferred by our most skin sensitive clients
Excellent solution to dry sensitive skin Learn more
Abundance of repeat customers
Preferred Luxurious facial soap
Price $6 and under
Oatmeal bar size approximately 4 oz
Order Oatmeal Soap nowSee Oatmeal Soap ingredient list
More details about oatmeal soap keep reading below
Need wholesale?- we offer it!
Oatmeal Soap a profitable product in our fundraisers! Oatmeal Soap- Click here for More information below
Oatmeal soap is the preferred choice for our most skin sensitive clients
Dry itchy sensitive skin? Our oatmeal Soap is just the solution you've been looking for. Preferred by our most skin sensitive clients. Shipped to many states and several foreign countries by word of mouth of a satisfied customer. Prices starting at $5 when you buy our economy pack
Oatmeal Soap ingredients
Saponified oils of : coconut, palm kern al,palm stearic,rice bran shea butter, canola, jojoba,castor plus natural oats, real silk, goat milk, honey , may contain light fragrance or essential oil
Oatmeal Soap- Preferred Facial Soap
Hundreds of our oatmeal soaps aresold to repeat clients at our shows each year as a preferred facial soap.
Because Ladybug Blessings Oatmeal Soap is rich in natural oils, rich in the goodness of oatmeal and rich in anti aging skin soothing ingredients it is a perfect facial soap. Many report they have not need for additional moisturizers.
Oatmeal Soap - Our Customers Speak
would like to buy two more bars of the oatmeal soap. My mom took the other two! :-) We all have problems with our skin. - Priscilla in KY
from a comment box) CUSTOMER SINCE PURCHASING "HONEY OATMEAL" SOAP @ FRANKLIN CO HIGH SCHOOL CRAFT SHOW IN DEC 2007….ABSOLUTELY LOVE THE SOAP ….MY EXTREME DRY SKIN IS A THING OF THE PAST ALREADY AND IT'S JUST JANUARY!   WHEW WHO!   "IT'S TRULY A BLESSING!"
GOD BLESS YOU FOR ALL THAT WORK AND THANKS FROM A CUSTOMER FOR LIFE
(I gave my daycare provider some of your products for Christmas. She has a lot of skin problems. She says she can't live without the oatmeal soap anymore. Can I add 2 oatmeal soap bars to the order? Thanks,Angie

Oatmeal Soap Fundraiser
The word has gotten around about how wonderful oatmeal soap is for those with skin sensitivities and any of us who just love the skin we live in!
Learn More about how Oatmeal Soap or the entire Ladybug Blessings Natural Bath & Body line can become your next successful funraiser
Ladybug Blessing Oatmeal Soap is one of our top Sellers!
If you are looking for a quality natural Oatmeal Soap that carries out all of the skin soothing properties you have heard about... Ladybug Blessings will not dissapoint!
Apply for our Wholesale Bath and Body Page or
Learn more about our wholesale soap and apply at our Wholesale Soap page
Ladybug Blessings Oatmeal Soap is among our best sellers.
Wholesale Application is in our header menu