Shea Butter Cream
For when your Skin needs a New Best Friend
Discover Shea Butter Cream made from natural fair trade Ghana shea butter & nature's finest ingredients
Shea Butter Cream
Because Your Skin Really Does Deserve the Richest Emollient on Earth
Shea Butter is truly that emollient - bringing healing care
Shea Butter Silk Cream by Ladybug Blessings is made with real unrefined shea butter to bring your skin the very best of healing care with the ability to bring moisturizing and skin softentenng properties to parched, tight, dry itcy skin.
Shea Butter - Yes, it really is true Shea may be the Richest Emollient - really?
Yes, Shea butter has been known for centuries as an amazing moisturizer filled with natural components that promote younger healthier skin.Why? Because shea Butter is not only a natural moisturizer but also a natural emollient.
What does this mean?
Here is what you need to know. Moisturizers add moisture. Emollients actually soften skin. Shea Butter has both properties.Shea Butter is often considered to be the absolute best natural natural emollient. Ladybug Blessings Shea butter cream naturally adds both moisture and emollience. promoting younger healthier skin.Shea butter also adds some natural UV protectant factor
Shea Butter Cream-
Introducing Your Dry Skin to a New Best Friend
Shea Butter Cream-Quick Purchase Info
Price $13.98 Each 8 oz jar
$7.99- Travel /personal/ Convenient 4 oz jar
Paraben free preservative
Rich in Natural Shea Butter
Petroleum free
Concentrated- Long Lasting
Popular Wholesale Choice
Available wholesale in bulk gallons.Click for wholesale information
Fundraiser product
Shea Butter Cream- Click here for More information below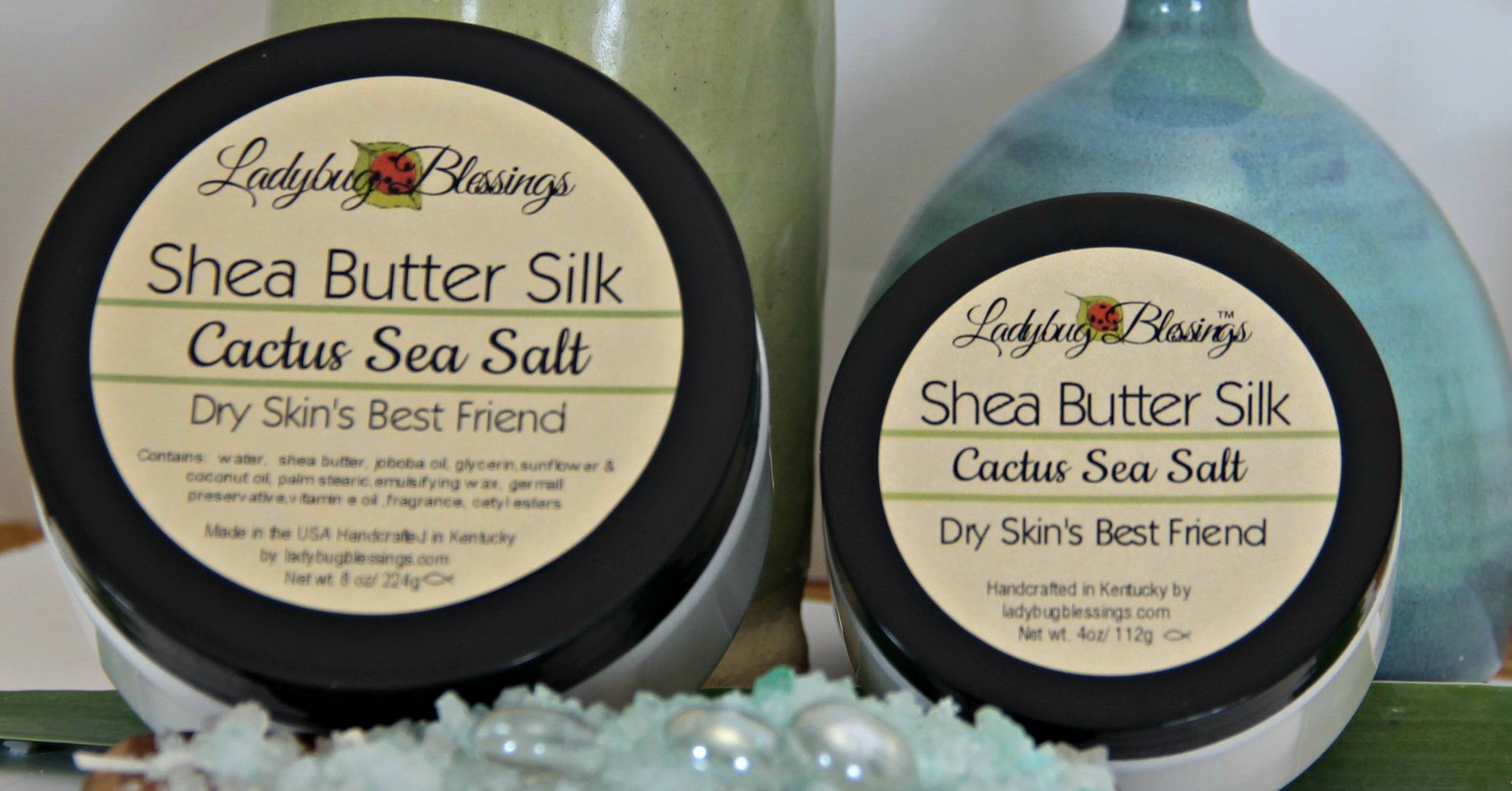 Shea Butter -Handcrafted distinctive
Because handcrafted does not always mean completely handcrafted. It is a common practice among even those claiming to be a handcrafted bath and body company to purchase a thick commercial style base and just add water.
Shea Butter Silk is NOT made by just a certain amount of water added to supplier bought base that may have originated from foriegn countries.. "Shea Butter Silk" is completely handcrafted from scratch using an orginal Ladybug Blessings formulation of the finest oils. Lana, our owner had battled dry skin for over 30 years before discovering the benefits of a more natural way. Therefore, Ladybug Blessings is committed to quality products for the betterment of your skin.
Are all Shea Butter Creams equal? Why handcrafted?
By carefully handcrafting shea butter cream we select each oil and the percentage thereof. This means no filler oils, no cheap oils, paraben free preservatives. The market is flooded with cheap shea butter creams making all the claims but in reality often having only a minuet amount of shea butter and counter acting those benefits with multiple chemicals.
In order to bring you an exceptional product, our shea Butter cream is our original formulation and we find it imperative that it be handcrafted from start to finish.
Shea Butter Cream Ingredients
Contains: water, shea butter, jojoba oil, glycerin,sunflower & coconut oil, palm stearic,emulsifying wax, preservative,vitamin e oil ,fragrance, cetyl esters. Preservative: Germall
Wholesale Body Cream
We offer our Shea Butter Cream at wholesale to store owners.
Private label available upon request
Apply for Wholesale Bath Body