Welcome to Ladybug Blessings: Natural - Affordable - Truly Handcrafted!
. ................................................. ~Dedicated to naturally blessing your bath & body care experience since 1999~ ...............................................................
Certified KENTUCKY PROUD by the KY Department of Agriculture!
We are honored and excited to serve you! Read below to learn more about why Ladybug Blessings has become a natural skincare staple in Kentucky!
We proudly offer you 20+ years of experience in providing the highest quality natural skin care, bath & body products, lotions, foot care, essential oil products, natural handcrafted soaps, and more! Our handcrafted bath & body products are 100% paraben, petroleum, and SLS free! What does that mean? It means we actually care about your skin and have taken multiple steps to offer the safest, gentlest products for all skin types and we refuse to resort to cheap fillers.  We hear stories all the time of customers who searched for years to find a product that didn't irritate their skin and we were finally able to help! Our natural lip balms, foot care collection, Simple Relief cream, simply lotions, and oatmeal soaps are the most popular options for beautiful, sensitive skin.  
So look around!  Click on the "Shop by Category" menu for more information about each product, or "Shop by Fragrance" to find a new favorite aroma sensation. If you have questions about our products or allergy information, feel free to contact us!
Be sure to check out our "About Us/FAQ' Page for information on latest updates, new products, fragrances, shows, and more!
Shipping Policy: We offer $9.00 flat rate shipping on any order, and FREE shipping on orders over $100!  Usual turnaround time is 3-5 business days, but we are a family small business and our families come first! Check out our "About Us/FAQ" page for the most up-to-date news on lead times. If you need your order rushed, please e-mail ladybugblessingsnatural@yahoo.com and we will do our best to fulfill your needs.  We are honored to serve you! 
FALL FRAGRANCES are here!!!! Enjoy returning favorites and 5 NEW Fall Scents!
The Original Loofah Soap - Spa in a Bag!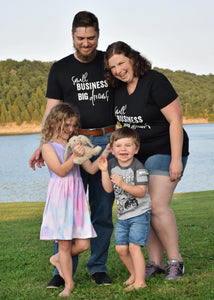 Meet the owners of Ladybug Blessings!
Meet Jennifer, Chance, and the smallest Ladybugs behind LBB!
Started as a family business in 1999 and passed on to our ownership in 2019, we are blessed to be a woman-owned and family-run SMALL business focused on treating our customers like friends and enriching the lives of every person our products come into contact with. Natural, healthy, and sustainable is our mission! Every dollar you spend with our company buys groceries, pays for gymnastics classes, makes a mortgage payment possible, and so much more. We LOVE our customers and can't wait to serve you!
SMALL BUSINESS ~~ BIG DREAMS
Some of our most popular collections: