Cooling Foot Spray
Cooling Foot Spray - A Refreshing Mist for Tired Burning Feet
There's nothing so miserable as tired burning feet. Offer your clients a refreshing Cooling Foot Spray with the Finest of Real Natural Fresh Peppermint & Eucalytus.
*Fully Handcrafted in small Batches. All Original Formulations.
We use the finest Peppermint Essential oil.
A touch of Eucalyptus & Tea Tree Oils
Cooling tingle immediately. .the relief and your clients deserve & fast
Because of the strong peppermint essential oil content our cooling foot spray in an excellent odor fighter as well.
May also use as an odor fighting room spray
Shoe Refresh Foot Spray
The essential oils in our foot spray allow it to serve as a shoe refresh spray for your toughest foot odors. Peppermint and Eucalyptus are tough on odor. So not only will your feet get a refreshing..but your shoes will too. The cooling of peppermint and eucalyptus oils stay with you throughout the day.
Peppermint Foot Spray
Ladybug Blessings has the perfect touch of peppermint.. It will quickly become your favorite peppermint foot spray.
Cooling Foot Spray great room Spray
May also use as an odor fighting room spray as peppermint helps fight many odors. Peppermint oil also contributes to alertness.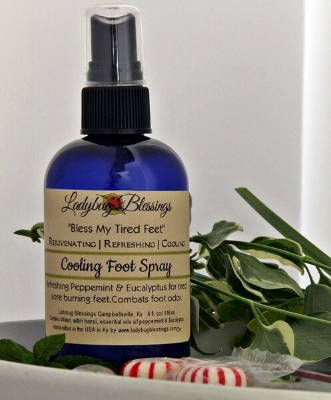 Foot Spray Wholesale
Ladybug Blessings offers one of the largest quality foot care collections on the internet.We offer wholesale foot care for those who care enough to want the very best at an affordable price.
Please apply on our Wholesale Bath and Body information page. Or to speak to a representative please call (270)-789-9758
Here is a quick list of with links to product feature pages as well.
The "Bless My Tired Feet Collection
Ladybug Blessings is proud to offer a renown line of foot care products. Each is uniquely handcrafted with the finest healthy natural ingredients. We use pure butters, oils, natural loofahs, salts and quality essential oils. Try our "Bless My Tired Feet" foot care line. A Foot Care Collection with one of the largest varieties & finest quality on the internet.